Trosnoth - 1.15.0
Free side-scrolling team action game.
J. D. Bartlett
(talljosh)
Trosnoth is a fast-paced open source team platformer. To win the game you must capture all of the opposing team's territory.
The Trosnoth idea was conceived many years ago by a bunch of
Übertweak
leaders who were looking for another network game to play on camp that was low-cost, team-based, involved strategy, and was easy to teach.
Changes
Trosnoth is a fast-paced open source territory control team sidescroller. Changes since 1.14.0:
Added new welcome screens developed using Qt so that they can be edited in Qt Designer.
Added an easy way to host a LAN game, and select the game options.
Added new screen showing available games, with information about why a trusted server is unreachable.
Added new tutorials screen with various single player scenarios that introduce the basics of Trosnoth.
Added new scenario, 'pacifist challenge', in which bots can shoot but you can't.
Added new scenario, 'wingman challenge', in which bots can capture rooms but you can't.
Added new 'remember me' setting that saves a login cookie for a particular server.
Added new radial menu for selecting upgrades (default hotkey is tab).
In-game menus are now larger, with a white theme instead of blue.
The 'ready' button is now much more prominent, along with options to change nickname and hat between matches.
When hosting a LAN game, the game will not start until all players select 'ready'.
Greatly improved lag-smoothing algorithm, resulting in much smoother-feeling internet games when network round-trip-time to the server fluctuates.
Machine gun now slowly reloads whenever the player is not shooting.
Hitting enter on a blank line now closes the chat window.
Shoxwave now fires faster in dark zones.
When a ghost has been idle for too long, they now slowly blur out then are removed from the game.
In server games, players who do not select 'ready' no longer automatically join the game with everyone else (they have to select 'Join game').
Elephant King scenario now awards money to players faster than a regular match.
You can no longer see the grappling hook rope of invisible players.
Ninjas now fade in and out instead of becoming abruptly invisible.
Ninja names, coin count, health bar etc. also fade in and out with the ninja.
Shots now pass through invulnerable (just spawned) players.
Pressing space / equals now follows the action in spectator mode like it does in replay mode.
Majorly improved action-following algorithm in spectator / replay mode.
In replay / spectator mode, clicking on a player's name in the leaderboard now follows that player.
Fixed bug where 'not the latest stable version' message would always show.
Added SilverBot, which reacts very quickly to changes during 1v1 matches.
Bots now use bomber when they're cut off.
Bots now have a difficulty setting, which can be somewhat configured for server-run games.
Added server options to force certain map sizes and durations (useful for tournaments).
If a team has only one player and no team name selected, the player name is used.
Winner banner can now show individual players as the winner (e.g., in a free-for-all)
Removed hotkeys to toggle leaderboard and HUD as these are easy to bump and annoying to reactivate.
Settings are now stored in ini files instead of a custom file format.
Made minor server web interface bugfixes and improvements.
Fixed various obscure tracebacks in corner cases.
Fixed some volume level issues with music and sounds.
Client and server now both use TCP_NO_DELAY.
Connection to authentication server now uses TLS.
Game version compatibility is now determined based only on the major and minor version numbers, (with alpha/beta releases considered incompatible with anything but itself).
Trosnoth's icon is now generated from the current orb and player graphics.
Minimum supported Python version is now 3.7.
Introduced a lot more use of async coroutines in the codebase.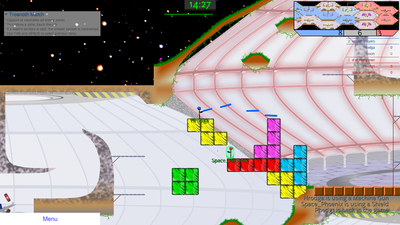 Links
Home Page

Source

Windows

Github repo
Releases
Pygame.org account Comments
John Board 2011-12-26 09:19

Hi, this is the first post that I have posted on pygame.org.

I am a developer of this game, I work on the AIs (Please don't comment on them, a new AI version has been released and is much better than the current one...).

I first played this game about 1.5 years ago, it was AWESOME! There is much more statergum than that meets the eye, the difference between taking a zone and not taking one is sometimes the difference of 1 pixel (Which zone your in!)! At UberTweak we play with 4v4 or higher, 8v8 is a pretty good game size. Playing over the internet can be quite laggy because *cough* of inefficient coding of the networking modules *cough*. It is also an awesome feeling to hear one teams roar of success when defeating another teams ;)

John
---