Trosnoth - 1.14.0
Free side-scrolling team action game.
J. D. Bartlett
(talljosh)
Trosnoth is a fast-paced open source team platformer. To win the game you must capture all of the opposing team's territory.
The Trosnoth idea was conceived many years ago by a bunch of
Übertweak
leaders who were looking for another network game to play on camp that was low-cost, team-based, involved strategy, and was easy to teach.
Changes
Trosnoth is a fast-paced open source territory control team platform game. Changes since 1.13.0:
Added selectable hats / hairstyles.
Fixed bug where ghosts could have a grappling hook.
Orbs no longer keep spinning when the game is paused.
Bots in Hunted scenario now occasionally check and retarget towards closer players or players with higher scores.
Fixed bug where players could taunt while holding the roof and not fall off.
Server web interface is now easier to use with all configuration options accessible from web interface.
When possible the server now broadcasts its existence on the LAN, simplifying connecting to a server for LAN play.
The elephant's name is now configurable on the server.
Fixed bug which allowed a previous scenario to continue running its triggers after a new scenario had been started from server web interface / manhole.
Fixed server web interface bug which resulted in achievements not being shown on player profiles.
When server is run, web interface is now automatically opened logged in as an admin user (unless a command-line flag is given disabling this.)
Fixed server bug where, if the bot process had to be restarted, the new bot process was never told how to connect to the main arena process.
Fixed user interface bug related to Python 2 to 3 migration.
Fixed deprecation and resource warnings.
Camp-specific settings such as insecure login are now accessible as options rather than needing a separate branch.
Removed the need for a separate server branch in the repository.
Created server distributable using PyInstaller.
Added requirements file and instructions for running in a virtualenv.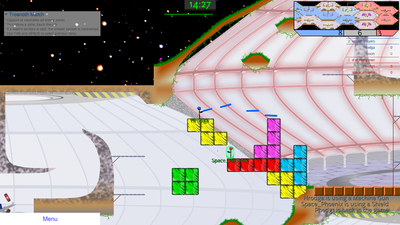 Links
Home Page

Source

Windows

Github repo
Releases
Pygame.org account Comments
John Board 2011-12-26 09:19

Hi, this is the first post that I have posted on pygame.org.

I am a developer of this game, I work on the AIs (Please don't comment on them, a new AI version has been released and is much better than the current one...).

I first played this game about 1.5 years ago, it was AWESOME! There is much more statergum than that meets the eye, the difference between taking a zone and not taking one is sometimes the difference of 1 pixel (Which zone your in!)! At UberTweak we play with 4v4 or higher, 8v8 is a pretty good game size. Playing over the internet can be quite laggy because *cough* of inefficient coding of the networking modules *cough*. It is also an awesome feeling to hear one teams roar of success when defeating another teams ;)

John
---