Trosnoth - 1.8.2
Free side-scrolling team action game.
J. D. Bartlett
(talljosh)
Trosnoth is a fast-paced open source team platformer. To win the game you must capture all of the opposing team's territory.
The Trosnoth idea was conceived many years ago by a bunch of
Übertweak
leaders who were looking for another network game to play on camp that was low-cost, team-based, involved strategy, and was easy to teach.
Changes
Changes since 1.8.1:
Left clicking while using right mouse button to aim will throw grenade or trosball.
Increased size of cross-hairs.
You can now kill players while they are resyncing.
Added notification when this is no longer the latest stable version.
Game server web interface runs on Django, and integrates with Django auth.
Achievements and other persistent server data now use the Django ORM instead of flat files.
Server settings are now configurable via the web interface using the Django admin app.
Added integration with Mumble voice server (murmur) using ICE in order to automatically move people into voice chat rooms according to their game teams.
Some refactoring related to achievements and replays.
Fixed bug where Ranger AI word start consuming way too much CPU if no pathfinding database had been loaded.
Game statistics are now viewable through the server web interface, and replay can be downloaded.
Removed some server-side code that's no longer ever used.
Fixed bug that resulted in really high assumed RTT when first connecting to server game.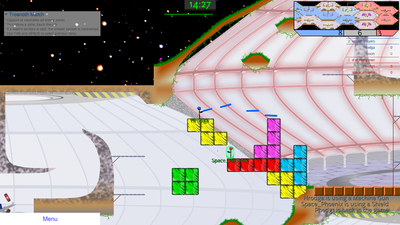 Links
Releases
Pygame.org account Comments
John Board 2011-12-26 09:19

Hi, this is the first post that I have posted on pygame.org.

I am a developer of this game, I work on the AIs (Please don't comment on them, a new AI version has been released and is much better than the current one...).

I first played this game about 1.5 years ago, it was AWESOME! There is much more statergum than that meets the eye, the difference between taking a zone and not taking one is sometimes the difference of 1 pixel (Which zone your in!)! At UberTweak we play with 4v4 or higher, 8v8 is a pretty good game size. Playing over the internet can be quite laggy because *cough* of inefficient coding of the networking modules *cough*. It is also an awesome feeling to hear one teams roar of success when defeating another teams ;)

John
---