Trosnoth - 1.12.0
Free side-scrolling team action game.
J. D. Bartlett
(talljosh)
Trosnoth is a fast-paced open source team platformer. To win the game you must capture all of the opposing team's territory.
The Trosnoth idea was conceived many years ago by a bunch of
Übertweak
leaders who were looking for another network game to play on camp that was low-cost, team-based, involved strategy, and was easy to teach.
Changes
Trosnoth is a network platform game. Changes since 1.11.0:
Added indicator lights around orbs to show the ownership status of surrounding zones.
Added box on minimap showing current view area.
Added gauge to all ghosts to show how close they are to respawning.
Adjusted item costs based on actual usage in a tournament.
Display more timing info when timing info is enabled.
Trosnoth server can now run multiple arenas, each of which runs in its own process. Clients have the option of which arena to join.
Updates to server web interface, including admin controls to pause and resume games, reset to lobby, and enable/disable shooting and zone caps for each team.
Added new levels: Cat Among Pigeons, Hunted, Free for All, Orb Chase.
In the lobby, players can vote for the next level to play from the top menu.
Spectators are no longer prompted to join the game every time the map resets.
When joining a game, the join screen now only shows the teams allowed by the current level.
Fixed and updated server game record displays, including updating player score calculation, and fixing record of player teams.
Fixed Trosball bug where sometimes the ball would start with a player rather than starting in the centre.
Fixed bug in chat display that caused issues after a player had received 100 chat messages.
Fixed some bugs in bots.
Updated logging to show asctime rather than milliseconds since startup.
Other minor bug fixes.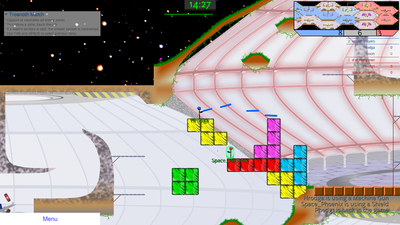 Links
Home Page

Source

Windows

Github repo
Releases
Pygame.org account Comments
John Board 2011-12-26 09:19

Hi, this is the first post that I have posted on pygame.org.

I am a developer of this game, I work on the AIs (Please don't comment on them, a new AI version has been released and is much better than the current one...).

I first played this game about 1.5 years ago, it was AWESOME! There is much more statergum than that meets the eye, the difference between taking a zone and not taking one is sometimes the difference of 1 pixel (Which zone your in!)! At UberTweak we play with 4v4 or higher, 8v8 is a pretty good game size. Playing over the internet can be quite laggy because *cough* of inefficient coding of the networking modules *cough*. It is also an awesome feeling to hear one teams roar of success when defeating another teams ;)

John
---