Trosnoth - 1.0.0
Free side-scrolling team action game.
J. D. Bartlett
(talljosh)
Trosnoth is a network team game. To win the game you must capture all of the opposing team's territory.
The Trosnoth idea was conceived by a bunch of
Übertweak
leaders who were looking for another network game to play on camp that:
was low-cost;
was team-based;
involved strategy;
was easy to teach.
Changes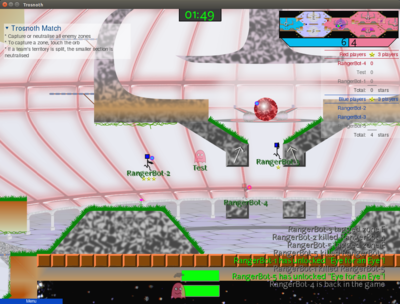 Links
Releases
Pygame.org account Comments
John Board 2011-12-26 09:19:24

Hi, this is the first post that I have posted on pygame.org.

I am a developer of this game, I work on the AIs (Please don't comment on them, a new AI version has been released and is much better than the current one...).

I first played this game about 1.5 years ago, it was AWESOME! There is much more statergum than that meets the eye, the difference between taking a zone and not taking one is sometimes the difference of 1 pixel (Which zone your in!)! At UberTweak we play with 4v4 or higher, 8v8 is a pretty good game size. Playing over the internet can be quite laggy because *cough* of inefficient coding of the networking modules *cough*. It is also an awesome feeling to hear one teams roar of success when defeating another teams ;)

John

Sejuta QQ 2020-06-08 06:45:55.072820

Great survey, I'm sure you're getting a great response.

Agen Domino99
---