Trosnoth - 1.9.0
Free side-scrolling team action game.
J. D. Bartlett
(talljosh)
Trosnoth is a fast-paced open source team platformer. To win the game you must capture all of the opposing team's territory.
The Trosnoth idea was conceived many years ago by a bunch of
Übertweak
leaders who were looking for another network game to play on camp that was low-cost, team-based, involved strategy, and was easy to teach.
Changes
Changes since version 1.8.2:
New bot API, including the ability to dodge bullets.
Improvements to ranger bot, including a change to help avoid all rangers being perfectly in sync with one another.
Ranger bots now buy themselves shields.
Fixed bugs in "Fight to the Death" and "Bouncy Flag" achievements.
Reduced time that "Loading..." screen is displayed.
Added humans vs. machines game mode.
If there's an error loading a custom bot file, the whole game no longer crashes.
Fixed trosball bug where player would pass the ball to themselves.
Two new server-activated game modes: FiveHealth and TenHealth.
Removed default team size restrictions.
Added new standard map size, "Large", with new calculations for how blocked the map should be, based on map size.
When using the bomber upgrade, the interface now deselects it afterwards so that you don't accidentally buy it again later.
Added basic pause/resume mechanism for single player games.
Fixed bug with replay viewing.
Fixed bug with player resyncing.
Made the default bots easier to defeat.
Introduced basic API for writing custom levels, but no way to yet access this from the user interface.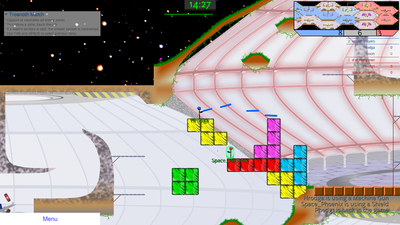 Links
Home Page

Source

Windows

Github repo
Releases
Pygame.org account Comments
John Board 2011-12-26 09:19

Hi, this is the first post that I have posted on pygame.org.

I am a developer of this game, I work on the AIs (Please don't comment on them, a new AI version has been released and is much better than the current one...).

I first played this game about 1.5 years ago, it was AWESOME! There is much more statergum than that meets the eye, the difference between taking a zone and not taking one is sometimes the difference of 1 pixel (Which zone your in!)! At UberTweak we play with 4v4 or higher, 8v8 is a pretty good game size. Playing over the internet can be quite laggy because *cough* of inefficient coding of the networking modules *cough*. It is also an awesome feeling to hear one teams roar of success when defeating another teams ;)

John
---