Trosnoth - 1.5.1
Free side-scrolling team action game.
J. D. Bartlett
(talljosh)
Trosnoth is a fast-paced open source team platformer. To win the game you must capture all of the opposing team's territory.
The Trosnoth idea was conceived many years ago by a bunch of
Übertweak
leaders who were looking for another network game to play on camp that was low-cost, team-based, involved strategy, and was easy to teach.
Changes
Changes in version 1.5.1:
New upgrades: machine gun, shoxwave, ninja. These replace the turret and phase shift upgrades.
You can now tell what upgrades a player has by looking at them (e.g. players with machine gunner and shoxwave have a visibly different gun, player with minimap disruption wears a radar hat).
New zone capture indicator on minimap: zones on minimap have coloured circle showing whether the zone can be captured or is in danger of capture.
Players can now mark zones on the minimap to draw the attention of team-mates.
Added practise mode (with bots) to menu.
Authentication server lobby now adds bots players to the game up to a certain minimum number of total players.
Authentication server now also runs a web server which displays player achievements.
Initial work on "Trosnoth core", a web-based menu system for Trosnoth that integrates with the authentication server web site.
When playing Trosnoth from the Trosnoth core, you now have the ability to add authentication servers other than the defaults.
Console output is quieter: only errors are logged unless a debug flag is given.
Some refactoring, including some efficiency gains.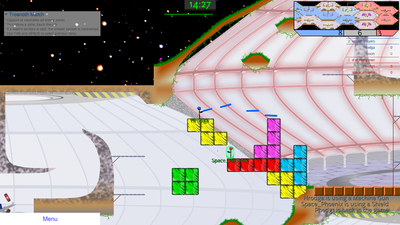 Links
Releases
Pygame.org account Comments
John Board 2011-12-26 09:19

Hi, this is the first post that I have posted on pygame.org.

I am a developer of this game, I work on the AIs (Please don't comment on them, a new AI version has been released and is much better than the current one...).

I first played this game about 1.5 years ago, it was AWESOME! There is much more statergum than that meets the eye, the difference between taking a zone and not taking one is sometimes the difference of 1 pixel (Which zone your in!)! At UberTweak we play with 4v4 or higher, 8v8 is a pretty good game size. Playing over the internet can be quite laggy because *cough* of inefficient coding of the networking modules *cough*. It is also an awesome feeling to hear one teams roar of success when defeating another teams ;)

John
---