Trosnoth - 1.1.0
Free side-scrolling team action game.
J. D. Bartlett
(talljosh)
Trosnoth is a fast-paced open source team platformer. To win the game you must capture all of the opposing team's territory.
The Trosnoth idea was conceived many years ago by a bunch of
Übertweak
leaders who were looking for another network game to play on camp that was low-cost, team-based, involved strategy, and was easy to teach.
Changes
Changes since v1.0.1:
Added new Trosnoth music.
Game uses a new discovery protocol to detect games over the Internet and LAN.
Extensive changes to network protocol.
New ricochet upgrade.
Ghosts can no longer enter out-of-bound zones.
Ghost speed now varies based on mouse position.
Web link to how to play on first page.
Web link to more info when UDP does not work.
More game statistics are saved.
Replay and game statistics files merged into a single file.
Various improvements to user interface.
Various bug fixes.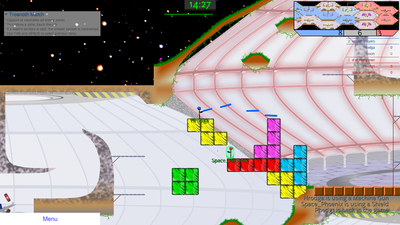 Links
Releases
Pygame.org account Comments
John Board 2011-12-26 09:19

Hi, this is the first post that I have posted on pygame.org.

I am a developer of this game, I work on the AIs (Please don't comment on them, a new AI version has been released and is much better than the current one...).

I first played this game about 1.5 years ago, it was AWESOME! There is much more statergum than that meets the eye, the difference between taking a zone and not taking one is sometimes the difference of 1 pixel (Which zone your in!)! At UberTweak we play with 4v4 or higher, 8v8 is a pretty good game size. Playing over the internet can be quite laggy because *cough* of inefficient coding of the networking modules *cough*. It is also an awesome feeling to hear one teams roar of success when defeating another teams ;)

John
---