Trosnoth - 1.13.0
Free side-scrolling team action game.
J. D. Bartlett
(talljosh)
Trosnoth is a fast-paced open source team platformer. To win the game you must capture all of the opposing team's territory.
The Trosnoth idea was conceived many years ago by a bunch of
Übertweak
leaders who were looking for another network game to play on camp that was low-cost, team-based, involved strategy, and was easy to teach.
Changes
Trosnoth is a fast-paced multiplayer territory control shooter. New in version 1.13.0:
Rewrote collision detection system to use separating axis theorem. This eliminates the possibility of falling through walls.
Improved grappling hook---you can now swing on it, and it has a nicer feel.
Grappling hook is now the default action for right mouse button.
Overhauled bot pathfinding so that bots can use momentum-based physics and grappling hook.
Removed some map sections which were hard to get around and simplified others.
Players can now hold on to the roof, and shoot while holding the walls or roof.
Orbs now spin.
Added taunts / emotes.
Using trajectory assistance while a ghost now shows trajectory for firing as soon as player respawns.
When using ninja, added a radial indicator around orbs to show how close player can get before coming visible.
Increased player terminal velocity, and grenade velocity.
Windows EXE and installer are now signed, thanks to pygame.org artist in residence grant money.
Added server support for grouping matches together into tournaments and showing some aggregated statistics and leader boards.
Moved some server command-line options to database or configuration file.
Moved some insecure hard-coded server settings into configuration file.
Server now opens web interface as admin user unless run with --no-browser command-line option.
Server now runs bots in a separate process to improve server responsiveness.
Made minor improvements to server web interface.
Trosball no longer starts inside a wall.
Trosball games can no longer go on forever.
Fixed Trosball bug where front line no longer appeared to be moving with the ball.
Fixed bug where topmost zones would show upwards indicator lights.
Fixed bug in server record of player zone scores.
Fixed traceback triggered in observer/replay mode when viewing an invisible player.
Made Trosnoth still work on display systems with odd bit depths.
Trosnoth now works on machines with no sound subsystem.
Fixed bug where, when run with some builds of pygame, music would stop after the first piece.
Migrated codebase to Python 3 and Django 2.
Removed murmur/mumble integration as nobody is using it.
Removed some unused code.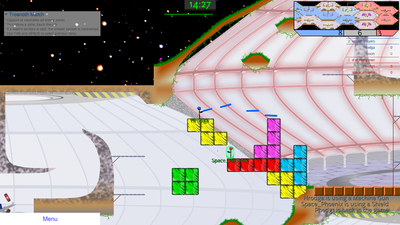 Links
Home Page

Source

Windows

Github repo
Releases
Pygame.org account Comments
John Board 2011-12-26 09:19

Hi, this is the first post that I have posted on pygame.org.

I am a developer of this game, I work on the AIs (Please don't comment on them, a new AI version has been released and is much better than the current one...).

I first played this game about 1.5 years ago, it was AWESOME! There is much more statergum than that meets the eye, the difference between taking a zone and not taking one is sometimes the difference of 1 pixel (Which zone your in!)! At UberTweak we play with 4v4 or higher, 8v8 is a pretty good game size. Playing over the internet can be quite laggy because *cough* of inefficient coding of the networking modules *cough*. It is also an awesome feeling to hear one teams roar of success when defeating another teams ;)

John
---