Trosnoth - 1.16.0
Free side-scrolling team action game.
J. D. Bartlett
(talljosh)
Trosnoth is a fast-paced open source team platformer. To win the game you must capture all of the opposing team's territory.
The Trosnoth idea was conceived many years ago by a bunch of
Übertweak
leaders who were looking for another network game to play on camp that was low-cost, team-based, involved strategy, and was easy to teach.
Changes
Trosnoth is a fast-paced open source territory control team sidescroller. Changes since 1.15.2:
New prettier explosions for grenade & shoxwave.
Guns no longer run out after a time limit, but have limited ammo and a key to buy more ammo.
Active guns can be cycled through using mouse wheel. This can be remapped.
When a player dies, they keep a portion of their ammo for all guns.
Added rail gun with long range and near-instant speed.
Added piercing gun, with shots passing through players and one wall.
Added mines which explode on enemy proximity.
Added detonation beam which can be used to detonate mines from a distance.
Added 'Meandering Menage' gun.
New 'Juggernaut' scenario, where juggernaut gets extra health and one of the players who hit the juggernaut becomes the next juggernaut.
New 'Space Vampire' scenario, with one vampire who's invisible unless in dark enemy zones.
New 'Free Flow' map which is very open, particularly for use in Orb Chase.
Shop menu now shows the cost of upgrades.
Added close button to shop menu.
Hosted LAN games default to being named after the hosting player.
Scenario winners are now visible for a period after the scenario ends.
Zone letters are now assigned symmetrically on both sides of the map.
Zone letters are now displayed offset from the orb, for readability.
Elephant, vampire and juggernaut are now removed when a scenario ends.
Scenario classes no longer need to be registered in as many places.
LAN games now reset coins etc. when lobby phase is over.
Server web interface now defaults to part 8000, with a command-line option to override this.
Fixed a bug which prevented players remapping keys which were assigned to 'unknown action'.
Fixed a bug where stationary objects sometimes appeared to jiggle when you moved relative to them.
Fixed a bug that resulted in several resyncs at the start of certain game scenarios.
Removed inconsistently-enforced server constraint requiring all users to have different preferred nicks.
Minor update to zone graphics.
Minimap disruption is temporarily disabled until new team upgrades UI is completed.
Improved logging in certain circumstances.
Various other minor bug fixes.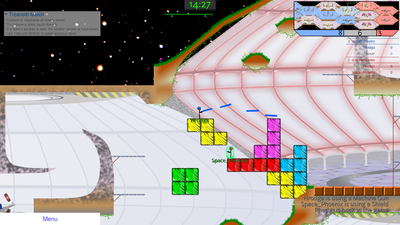 Links
Home Page

Source

Windows

Github repo
Releases
Pygame.org account Comments
John Board 2011-12-26 09:19:24

Hi, this is the first post that I have posted on pygame.org.

I am a developer of this game, I work on the AIs (Please don't comment on them, a new AI version has been released and is much better than the current one...).

I first played this game about 1.5 years ago, it was AWESOME! There is much more statergum than that meets the eye, the difference between taking a zone and not taking one is sometimes the difference of 1 pixel (Which zone your in!)! At UberTweak we play with 4v4 or higher, 8v8 is a pretty good game size. Playing over the internet can be quite laggy because *cough* of inefficient coding of the networking modules *cough*. It is also an awesome feeling to hear one teams roar of success when defeating another teams ;)

John
---