Woody Tigerbaum's Interplanetary Package Delivery - 0.92
Deliver packages in space with the power of interplanetary slingshots.
Dave LeCompte
(tsmaster)
My first PyWeek entry, I took the shot interface of a golfing game with a planetary gravity simulation. Retro graphics and some goofy bits made this a favorite of some PyWeek judges.
Changes
A few small changes:
the ability to name your characters
cursors get hidden by dialog boxes
text buttons are centered correctly
when going to the main menu, zoom is reset
score displays are now centered under the heading
apple-Q now quits as Mac users would expect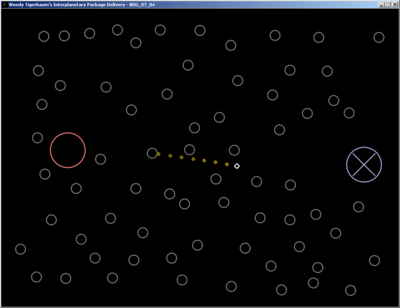 Links
Releases
Woody Tigerbaum's Interplanetary Package Delivery 0.9 — 26 Apr, 2007
Woody Tigerbaum's Interplanetary Package Delivery 0.91 — 28 Apr, 2007
Woody Tigerbaum's Interplanetary Package Delivery 0.92 — 10 Jul, 2007
Pygame.org account Comments
---