Woody Tigerbaum's Interplanetary Package Delivery - 0.9
Deliver packages in space with the power of interplanetary slingshots.
Dave LeCompte
(tsmaster)
My first PyWeek entry, I took the shot interface of a golfing game with a planetary gravity simulation. Retro graphics and some goofy bits made this a favorite of some PyWeek judges.
Changes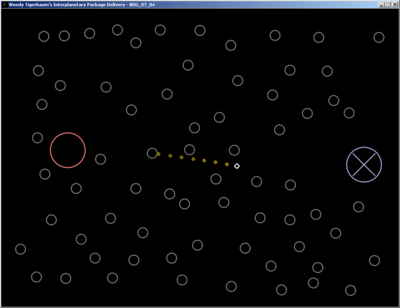 Links
Releases
Woody Tigerbaum's Interplanetary Package Delivery 0.9 — 26 Apr, 2007
Woody Tigerbaum's Interplanetary Package Delivery 0.91 — 28 Apr, 2007
Woody Tigerbaum's Interplanetary Package Delivery 0.92 — 10 Jul, 2007
Pygame.org account Comments
---