Galcon - 1.3.2
Galcon is an awesome high paced galactic action-strategy game. You send swarms of ships from planet to planet to take over the galaxy.
Phil Hassey
(phil)
Galcon was originally created for the April 2006 Ludum Dare competition. It won the contest with first places in four categories and second place in the fifth.
The game was developed over the six months after the LD competition. It now includes 7 different computer opponents, network play, much improved graphics, etc.
Galcon uses pygame, pgu, and pyplus to create some swig extensions for the graphically intense parts of the game.
Changes
This release of Galcon includes several bug fixes. A cheat whereby you could take over unpassworded accounts in mid-game has been patched. A number of crashes in the single player game have been patched. Also, when rounds end, a "ding" sounds so that if you are AFK you can get back before the next round begins.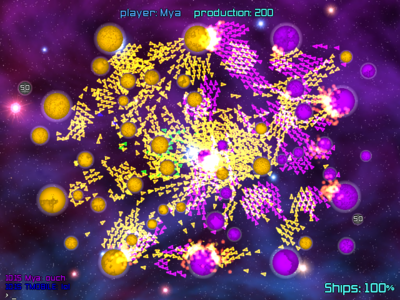 Links
Releases
Pygame.org account Comments
---