Galcon - 1.1.4
Galcon is an awesome high paced galactic action-strategy game. You send swarms of ships from planet to planet to take over the galaxy.
Phil Hassey
(phil)
Galcon was originally created for the April 2006 Ludum Dare competition. It won the contest with first places in four categories and second place in the fifth.
The game was developed over the six months after the LD competition. It now includes 7 different computer opponents, network play, much improved graphics, etc.
Galcon uses pygame, pgu, and pyplus to create some swig extensions for the graphically intense parts of the game.
Changes
/ranks 123456 - Now you can set your server to be only for certain ranks. 1 - Admirals ... 6 - Cabin Boys. This means you can have a "Beginners" server that is actually for beginners /ranks 345. Or an "Experts" server /ranks 12.
tim put together some great music for the missions portion of Galcon - check it out if you haven't played the missions lately.
Tired of trying to type in my name? Just type "phil"+[tab] and Galcon will fill in the rest for you! Works for those long commands "/sur"+[tab] = "/surrender" !
Now, for those of you who want to type numbers in chat, there is an option in the options to let you do this! The default remains so that laptop users can change their Ships %.
/mute $user - now admins can put the kibosh on players who just can't shut up!
Bug fixes, including (as best we can tell) a few fixes for some of those net bugs where things didn't work quite right. Thanks to carn for helping out lots!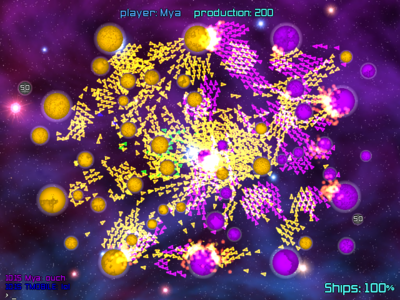 Links
Releases
Pygame.org account Comments
---