MoonPy - 0.8.01
An open-source remake of the classic strategy game Moonbase Commander
Donkyhotay
(donkyhotay)
MoonPy is an open-source remake of the classic strategy game Moonbase Commander. A multiplayer turn-based game. On their turn the player can spend energy points by attacking their opponents and/or adding more buildings to their base. Turns continue until all players either pass or run out of energy. The round then ends, players regain energy, and continue taking turns. All buildings are ground-based and are attached by a tether to the building that created them. All units need to be "launched" similar to many artillery games though in a top-down perspective.
Changes
Changes for 0.8.00:
Better graphics
New music
Added dependency checking for windows and osX
Precompiled launcher for windows if python isn't installed
Automatically download/install missing dependencies on windows
Package installers for linux available
Saved settings are unique for each user
Animated defenses
Game identifies winner
New voice actor for narration
Numerous bugfixes
Version 0.8.01 includes an emergency fix for a bug that slipped into the initial 0.8.00 release.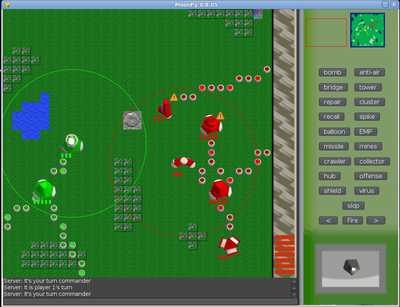 Links
Releases
Pygame.org account Comments
---