AeroTanks - 0.8.1
You are a tank and your goal is to defend yourself from the enemies that try to kill you. After each level, a buy shop comes up and you can buy items such as weapons.
Mystex
(mystex)
The game has three modes, the Story Mode (not complete), the Survival Mode, and the Tanks Mode(not complete).

The Story mode is a side-scroller with a story line. Currently only has 1 player mode.

You can play with up to two people in survival mode. Your goal is to survive as long as you can. After each level, there is a buy shop where you can buy new weapons and items.

Tanks mode is not yet developed, but it is going to be pretty similar to the classical tanks game.

If you have any suggestions, please post them! :D


Controls are in controls.txt!

P.S. Pygame 1.8 is required because of the use of masks.
Changes
Many bug fixes.
New weapons and items.
More additions to the game.
Changed how the game runs. It will run at the same speed on a slow computer as on a fast computer.
Code clean-up and change.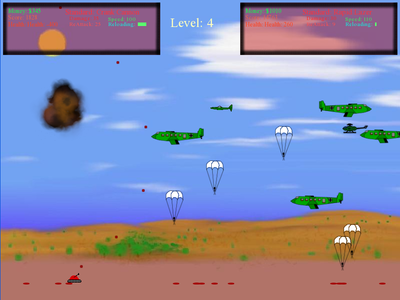 Links
Releases
Pygame.org account Comments
---