Roll - 0.0.8
An expression parser done in java. The application can be started as a calculator to show how it works and test, but can also be used as a LIBRARIAN, jar to include in your own projects.
Jesús Hernández Paredes
(jesushernandezparedes)
Roll organize your calculations, in books, sheets and lines. A workbook can contain many sheets as needed and can be stacked one sheet cascading many expressions as needed.

Supports:

Subtotal: each line can yield a result, will be considered as a subtotal. Subtotals can be operated independently using functions.

Features: Roll contains several predefined struggle for more functions. Examples: add_subtotals, max_subtotals, average_subtotals, fact, double_fact, circle_area, MCD, mcm ...

Bookseller: Try it first as an application and then risk using it as a library-oriented calculation to add to your projects.

identifiers: identifiers when creating flight ident = 20 and you have your ID created.

Roll contains more things, if you feel interested pasate the web.


Changes
Recent changes
Mainly this release, you added a module statistical graphs. This module, in its first version, allows the creation of five types of charts.
Tart type graphic chart showing a percentage, vertical bar chart, graph and bar graph horizontal lines bars. All graphics can be saved, loaded and edited within the program.
inside the folder, examples, you will find an example called, decreases, showing some graphical statistics. Gradually I'll tell you how the module is used, but I think that with a little exploring, easily finds its use.
Because of the changes that suffered internally file, xml, which stores data calculations, was created for this release, a system version compatibility. This system allows you to load this version, any calculation generated in previous versions, respecting the calculations and generated files above. This system compatibility, still being used in the future to support new changes to files, xml.
Faults repaired.
-A bug that sometimes prevented proper use of the option to copy a sheet.
-The error that prevented the first sheet of a calculation is fully displayed on the screen just after loading.
-Errors that marred the current calculation if strummed on upload file, and then was pressed on cancel.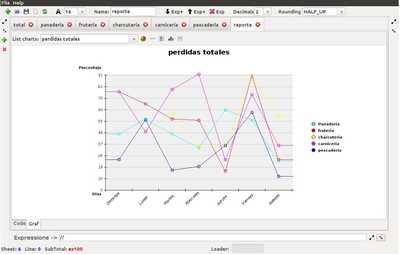 Links
Releases
Pygame.org account Comments
---