eduActiv8 - 3.70.919
A suite of educational activities for 3 - 10 years old kids build with Python & Pygame.
Ireneusz Imiolek
(eric83pl)
eduActiv8 (formerly pySioGame) is a set of grid-based educational activities for young children.
The application started as some sort of a learning sandbox in my early days of stepping into the python programming world - but later was improved and transformed into an open-source educational application. While it is not a programming piece of art (since when I started I was a complete python beginner), children under 10 might find it useful - and hopefully won't complain about badly written code :)
The application includes some basic activities in maths, ABC, reading, memory, time, colors, etc. More activities are being developed but graphic design is not really a skill I have which quite significantly limits the possibilities. Most of the nice graphics used in the game were created by talented people who contributed their works to openclipart.org, art4apps.org and other sites - thanks to all of them.
The application obviously runs from source but has also been "compiled" to a range of operating systems, such as Windows, macOS, Android and
many Linux distributions
.
Requirements (to run from source):
python 2.7+
python-pygame
espeak (optional but very useful)
Recently tested with pygame2 and seems to run without issues.
The app supports multiple languages - currently available ones are: Arabic, Bulgarian, Catalan, Dutch, English, Finnish, French, German, Greek, Hebrew, Italian, Lakota, Polish, Portuguese, Russian, Serbian, Spanish, Ukrainian (some of the newest changes may not be fully translated).
Thanks to all who submitted and maintain the translations. Please get in touch if you would like to help to translate this application to any other language or to improve (make more fun) any of the current translations. The English version would definitely benefit from some beautification by a native speaker, anyone interested?
The source and compiled packages for Windows, MacOS and Android can be downloaded from sourceforge.net:
https://sourceforge.net/projects/eduactiv8/
The packages for various Linux distributions are available from:
https://software.opensuse.org//download.html?project=home%3Aimiolek-i&package=eduactiv8
Changes
A lot of changes including the way the menu and levels work - menu content moved to xml file, levels also moved from game files to levels.xml file allowing customization of levels after deployment (mainly maths games covered so far); levels and menu can now be created for each locale separately (even after installation),
new languages (Serbian and Lakota),
compatibility with MacOS (Sierra - 10.12.3 and above),
login screen redesigned,
minor improvements across a number of activities,
some images replaced.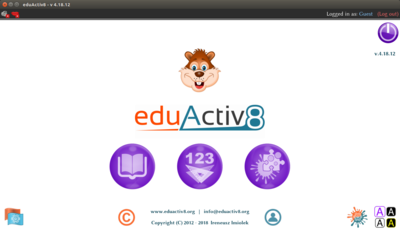 Links
Releases
Pygame.org account Comments
---