This project needs to be recoded from the ground up. It was one of my earliest projects and still one of my favorite, but the code has become an unmaintainable mess.
A topdown action/adventure rpg in the nostalgic spirit of the 80's.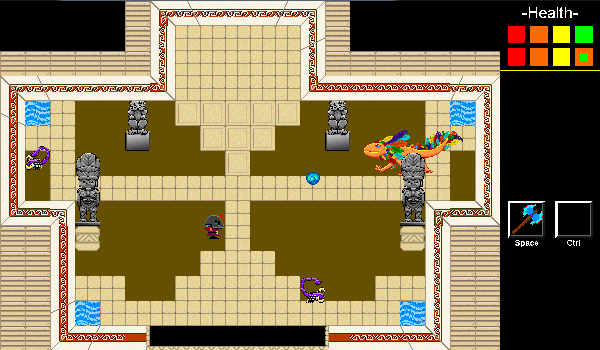 Controls:
S-key: Go to the camp screen (here you can change your gear)
Enter: Select during the camp screen.
Space: Standard attack
Left Ctrl: Special attack (not implemented)
Left Shift: Open treasure chest
Arrow Keys: Basic movement
X: Cancel
Esc: Quit (currently no prompt. immediate shutdown)
Notes:
This is still very much a work in progress with an endless amount of things I still intend to add. The most complete area is the Aztec temple which is fairly complete and includes a boss fight. The techno dungeon is not near done. Currently the player starts with only basic equipment in their inventory. All other equipment can be easily found around the world in treasure chests.
Map editor:
The map editor is included. It can be found in the "maps" directory. The main file to run it is "worldmapgenerator1.py" although the individual creator and tweaker can be run seperately with their corresponding files. Be warned however, the map editor is far from bullet proof and if a map is mistagged in the tweaker you may find the "worldmapgenerator1.py" failing to run. The solution to this is to reopen the map in the individual tweaker program and retag it.
If there is enough interest I may create a readme detailing how the map creator functions.
Just some changes under the hood. Testing confirms that it runs with 2.7 and 3.x on Windows 7 as well as with 2.7 on Linux Mint 13 (3.x unconfirmed). I am hoping that I will be able to update more regularly but this may be a pipe dream.