Ardentryst - 0.22.0-Rhododendron Unstable
Ardentryst is a free, open-source, cross-platform action/RPG sidescrolling game that is fun for all ages. Follow hero Pyralis, a warrior with fire magic, and heroine Nyx, an ice mage, on a quest through a castle, forests and snowy mountains to reclaim peace in the realm of Ardentryst.
Jordan Trudgett
(tgfcoder)
Ardentryst is an action/arcade role-playing game with focus on a fantasy world by the same name. The player is guided through a storyline which he or her must act in and play a major role in keeping peace and order in Ardentryst. The game features two playable characters and a variety of weapons, items, armour, monsters, and beautiful level scenery and graphics.
Features
Two playable characters
A good number of weapons, armour, items and accessories
Things you equip will be visible on your character as you play (eg. weapons, armour)
Walking, jumping, special abilities per char/level
A fantasy storyline
Spells, magic and summoning
Lots of monsters and friendly NPC characters
Lots and lots of sprite art married with digital painting, mainly in Anime and FF style
Fighting combos and flexible fighting system
Worldwide competition
A well-suited soundtrack and high-quality music and effects
3 epic worlds/locations with bosses at the end of each--play as both characters to go through all worlds
Customise your character, allowing different play styles
Requirements
Python 2.4 or greater (probably not Python 3)
pygame
A decent computer (1.6GHz CPU, 512MB RAM, dedicated graphics card at least)
About
This game is programmed by me and myself alone (since 2007), however I have asked a lot of my friends to help with various parts of the game, like art, story and game concepts, and the game would not have as much potential without them. Please see the credits listing in-game. :)
Changes
Although it's an "unstable" release, there's practically nothing you can do to crash it. It's just not a public release, and hasn't been tested thoroughly (although not too much has changed in terms of possibly program-breaking code since Micrathene 0.21.2.)

One spell has been added, but not documented/officially added. Press ' followed quickly by ; to cast flame wave. You can use up/down arrows to control it.

(' is button 4, most spells will start with it-- look for the halo effect. ; is button 5.)

Notice: there aint no casting animation yet. Basically because I'm too lazy and suck at posing. Imagine it, please! Also, the flame will have red glowing orbs around them and the caster will have more effects, like lightning around him/her on the ground, etc. (all customisable though.) Spells have no collision detection yet, but I hope that I can have bits for spells, e.g. "BURNBIT" -- indicates whether colliding with this spell activates a monsters "FLAMEBIT"-- the ability to catch alight. Things like that.. are still being prepared. So hold tight! Enjoy! (If you don't mind the DL size!)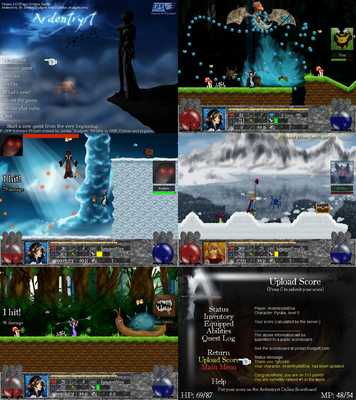 Links
Releases
Pygame.org account Comments
---