Junk Jungle - 0.2.3
Dungeon exploration game.
Radomir Dopieralski
(sheep)
Explore random dungeon, manage resources, collect parts for your machine and, most importantly, kill tons of monsters along the way. It's a mix of old-style console action-rpg display and even more old-style roguelike gameplay, set in a steampunk-ish setting. That's all planned, of course, so far you can just walk around the map and hit the monsters.
Changes
Back to development, after long struggles finally managed to make real walls -- the rooms no longer hang in empty space. Had to use some tricks to avoid drawing all possible wall configurations, but I think it's acceptable. I still need random maps, combat and inventory -- actually just walking around the map is a pretty small part, if it's ever going to be a playable game.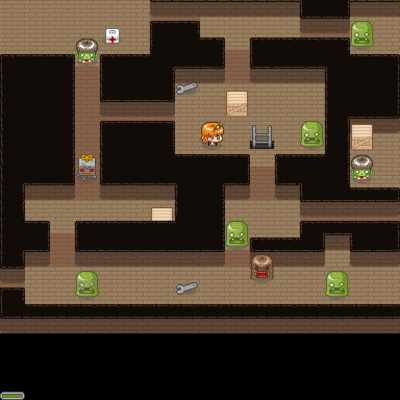 Links
Releases
Pygame.org account Comments
---