Block Fortress - 1.2
Open Source Breakout Clone
Marco Baxemyr
(phelerox)
A Breakout game I made during a python summer course.
Features:
10 levels [NEW!]
Progress is saved automatically upon quitting
Highscores
Indestructible blocks
Map Editor (Courtesy of Robert Kaufmann - known as Vectovox) [NEW!]
Powerups:

Extra Balls
Time Distortion Field - slows down balls that are near paddle
Double Damage
[NEW!]
Changes
Increased resolution to 1280x720 from 960x720 to better fit Android devices.
Yes, it works on Android now! (thanks to
Pygame Subset For Android
)
Download link for Android (experimental)
There's now a Map Editor. Feel encouraged to contribute maps! =) (email them to me at baxemyr [at] gmail [dot] com)
Numerous other changes.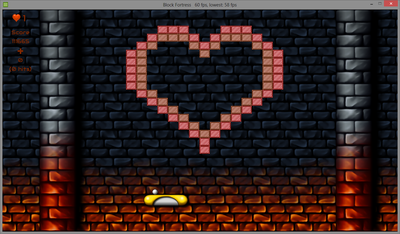 Links
Home Page

Source

Windows

Mac
Releases
Pygame.org account Comments
---