Find a Way - Recode
A pathfinding demo demonstrating A*
Sean J McKiernan
(mekire)
This is a simple pathfinding demo that I made investigating A*.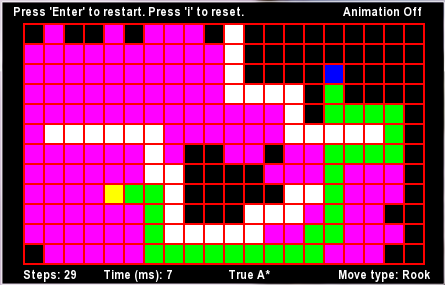 Controls:
Mouse left button: add start/goal, draw barriers
Mouse right button: delete start/goal/barriers
(clicking the text on the screen triggers and toggles functions if you don't want to memorize hotkeys)
HotKeys:
Space: Start
Enter: Restart
i: Reset to initial state
1,2,3: Switch between Rook, Queen, and Knight movement
d: Toggle animation on/off
Esc: Quit

Changes
This is a recoding of this project up to my current standards. The logic of the astar algorithm has been separated from the interface allowing for its reuse in other programs.
Links
Releases
Find a Way Recode — 24 Jun, 2013
Pygame.org account Comments
---