Life as a Bit - DLX-v1.01
A full-featured cellular automata simulator. The focus is on "Conway's Game of Life." With the 'Rule Panel' you can also explore other rule combinations.
Sean J McKiernan
(mekire)
"Life as a Bit" is a cellular automata simulator. It defaults to the well known set of rules known as "Conway's Game of Life."
A classic Conway Breeder added using the stamp interface.
Controls:
In draw mode add cells with the left mouse button and delete with the right.
Magnification both with Zoom panel and scroll wheel.
Panning with the arrow keys (and with the mouse in 'Grab Pan' mode).
Hotkeys:
Space: Start
p: Pause
Backspace: Reset
1,2,3,4: Switch between Draw, Stamp, Drag-Pan, and Selector modes
q,w,e,r: Stamp rotation and mirror copy hotkeys
+,-: Increase/decrease desired speed (limited by computational speed)
del,ctrl+x/c/v: Delete, cut, copy, and paste for Selector mode
ctrl+s: Save all living cells in a pattern file
g: Toggle grid on/off
i: Toggle info window on/off
ctrl+q: Hard quit (no prompt, immediate exit)
Rule Panel:
You know the Rules and so do I. Modify them here.
(Warning: Combinations resulting in explosive growth will quickly surpass the computational abilities of most computers.)
Explore other interesting patterns of emergent life.
Try:
Birth (3,3) and Survival (1,5) for an interesting maze-like growth.
Birth (4,8) and Survival (1,7) creates interesting seemingly aperiodic closed oscillators.
Birth (3,4) and Survival (1,5) creates very strange octagonal life.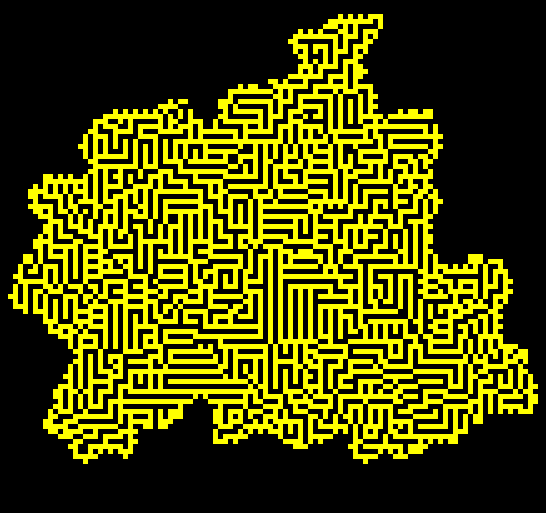 The above was generated with Birth (3,3) and Survival (1,5).
Stamp Mode (hotkey = 2):
"Life as a Bit" includes a database of well known and theoretically interesting patterns.
Using the stamp mode you can place these in any orientation using the rotation and mirror copy buttons.
A ghost image is also generated to assist in placement.

For those seeking a little more information, hit the information button and the available
information on the currently selected pattern will be displayed.

"Life as a Bit" reads three common formats of life pattern file ('Life 1.05', 'Life 1.06', and 'Run-Length-Encoded').
If you wish to add other patterns to the stamp database simply place your '*.lif' or '*.rle' file in
the 'lifep' subdirectory of the program.

The LifeWiki is a great place to find additional patterns and information.
Grab Pan Mode (hotkey = 3):
Pan with speed and ease using the mouse while in Grab-Pan mode.
Selector Mode (hotkey = 4):
Cut (ctrl+x), copy (ctrl+c), and delete using the convenient Selector mode. Simply place your selector rectangle using the mouse.
Cut and copied selections will be placed in the clipboard, and can be pasted in by pressing ctrl+v.
Selections can then be rotated and mirrored just as a stamp would.
Notes regarding saving (hotkey ctrl+s):
If you would like to save the currently living cells on the screen press ctrl+s.
Be aware however, the saved pattern will be named "savescreen.lif" and will be located in the "classic" directory.
If you do not rename this file, the next time you save, it will be overwritten.
Changes
Grab-Pan mode has been implemented.
Rectangle Selector mode has been implemented (supporting cut/paste/copy/delete functions).
All three common formats of pattern files can now be read ('Life 1.05', 'Life 1.06', and 'Run-Length-Encoded').
Hotkeys have been added for all functions (but memorizing them is not required).

This is theoretically the complete and final release of "Life as a bit."
That said, if anyone finds any bugs, or if there are further features that you would be interested in seeing,
please don't hesitate to bring them to my attention.

-Mek
Links
Releases
Life as a Bit 0.01 — 7 Nov, 2011
Life as a Bit DLX-v1.01 — 26 Dec, 2011
Life as a Bit DLX-1.00 — 18 Nov, 2011
Pygame.org account Comments
---