Foodforce2 - 1.0
Food Force 2, based on Food Force, is being developed as free software. It is cross-platform as it is written in the Python programming language, and runs on platforms including the One Laptop Per Child XO and the Sugar desktop environment. Food Force 2 is currently in beta, and available for download on Linux and Windows platforms.
Deepank Gupta
(deepank)
FoodForce2 is both a classroom tool, and an outside classroom activity. It is a new kind of an educational solution, an â??expanded schoolâ? which grows well beyond the walls of the classroom. The game play has been designed in a way to educate the child about certain key learning areas.The aim of the player is to make a village self-sustenant in terms of nutrition, housing, health, education and training by consistent production and trading of resources with the help of necessary infrastructure. The game currently has a storyboard, which is developed from a viewpoint of an Indian villager, who is the Sarpanch (The administrator of the ruling body, Panchayat, of the village) of a village and his son helps him in the development of the village, who is the next candidate for the position currently held by his father. Credits: 1. Lead Developer : Mohit Taneja (mohitgenii AT gmail DOT com) 2. Project Manager : Deepank Gupta (deepankgupta AT gmail DOT com) 3. Co-Developer : Vijit Singh (vijitthetopcoder AT gmail DOT com) Peeyush Kumar (peeyush.hsuyeep AT gmail DOT com) 4. OLPC Project Co-ordinator : Manusheel Gupta (manu AT laptop DOT org) 5. Artwork Lead : Silke Buhr 6. Artwork : WFP Artists from Italy
Changes
There have been many improvements in the game UI to make the look and feel of the game better. Specifically, these are some of the new things: 1. A better and fast-paced storyline with snappier dialogues 2. Bigger buttons and easy clickablility of buttons and other UI elements of the game. 3. Ability to place your own buildings in the village canvas. 4. Ability to save and resume at various check point within the game. 5. Performance imporved and bugs solved with testing being done by a gaming testing company: Chakkilam Infotech Limited 6. New site for the game now present at : www.foodforce2.com 7. A setup package now available for macintosh operating systems also. 8. The new version works on SoaS and XO 1.5 systems also.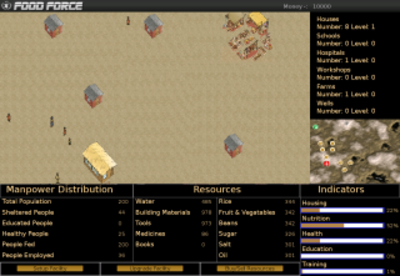 Links
Releases
Foodforce2 Beta — 10 May, 2009
Pygame.org account Comments
---