Mountain Climbing Adventure - 0.1.0
A falling objects game. Very fun. Objective is to get a highscore. You can post and compare scores online as well as your computer.
Anonymous
(pywiz32)
This is a falling objects game, where you are a climber clibming a mountain for no specific reason. As you go up, you have to avoid hitting obstacles such as rocks, snow banks, and trees sticking out of the mountain side. You can also find first aid kits, which will heal you after you hit an obstacle.

Controls:
Left: go left
Right: go right
Arrow keys: control menus
Return: enter name/select choice
p: pause

Todo:

Add levels
Add music

Changes
Added a highscore system, menus, and a way to post scores online. Wow.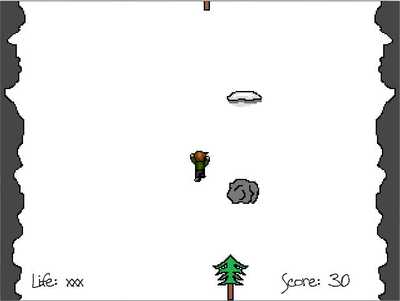 Links
Releases
Mountain Climbing Adventure 0.0.1 — 14 Jun, 2008
Mountain Climbing Adventure 0.0.2 — 14 Jun, 2008
Mountain Climbing Adventure 0.1.0 — 24 Jun, 2008
Pygame.org account Comments
---