Rising Snowflake - 1.0.1
Sidescrolling multiplayer tactical fighting game.
Dathgale
(dathgale)
Rising Snowflake is a sidescrolling multiplayer tactical fighting game. Two teams or individuals battle each other in a fantasy setting with a variety of weapons-- bow and arrows, swords, and even small hand held explosives for when their opponents won't stop hiding behind trees. Take note of the terrain and the wind to maximize the effectiveness of your projectiles.
Changes
New in version 1.0.1: Game no longer crashes when you use your sword while holding a bomb.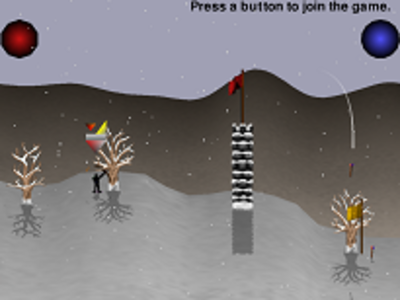 Links
Releases
Rising Snowflake 1.0 — 1 May, 2008
Rising Snowflake 1.0.1 — 2 May, 2008
Pygame.org account Comments
---