stuntcat - 0.2.0
"My first cat was named Speedy. Because when he went into one of those crazy dashes across the house, he'd run all along the backrest of the couch, like one of those motorcycle stuntperson. On a near-vertical surface."
Rene Dudfield
(illume)
The pygame community game. Is a continuing game made together by people of the pygame community.
Changes
This stuntcat ( 🏍️ 😼 ) release comes with a lot of polish. Both on the outside and on the inside.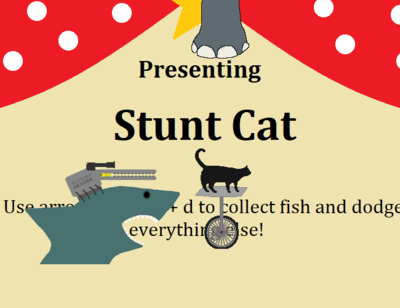 Links
Home Page

Source

Windows

Mac

Github repo

Support this project on Patreon
Releases
stuntcat 0.0.14 — 20 Sep, 2019
stuntcat 0.0.19 — 21 Sep, 2019
Pygame.org account Comments
---