Cargo Carrier - 1.1
While flying your Millennium Falcon (original, right?), collect cargo while out-maneuvering and destroying asteroids.
Brock Glaze
(bglaze)
I used Python 2.7 and Pygame to create this game. You will need both of them installed to run the script. However, you shouldn't need anything else. Any suggestions or comments are very welcome! Collect cargo crates and warp to more difficult zones. You have 1 life, and the max level is currently set to 10. Can you win? I, the creator, have yet to get past level 8, but maybe you can!
Changes
1. Gave rocks 'hitpoints'. -- In other words, larger rocks will merely crack upon shooting them once and will need to be shot further to be destroyed. 2. Gave the player ship a 'force shield' -- different rock types will do different amounts of damage to the ship's shield, some will hurt more than others. 3. Added a shield 'health-bar' underneath the ship, so you will know when death is immenent. 4. Changed some sound effects. 5. Added a small explosion image.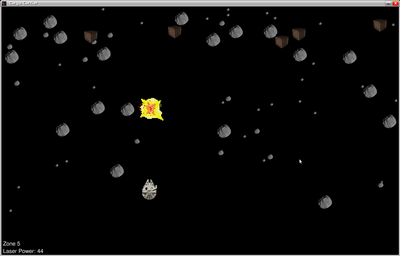 Links
Releases
Pygame.org account Comments
---