Title: Water Effects Script
Author: Pete Shinners and Gareth Noyce (korruptor at mac.com)
Submission date: May 06, 2002
Description: A script that demonstrates several textured water effects.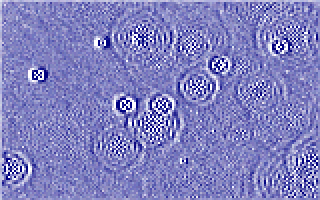 Download: pygame-water.zip
pygame version required: 1.3 (with Surfarray)
SDL version required: Any
Python version required: 2.0 (with Numeric)
Comments: Another thoroughly-commented, Numeric-powered effect from Gareth Noyce. Read the pygame-water.txt file that comes in this archive; Mr. Noyce does an excellent job of summarizing the script. The effect itself was ported from the C original, which was written by Scott Scriven, and is available from the SDL Projects page. Featuring speed-optimized code from the creator of pygame, Pete Shinners, water.py really shows that dramatic pixel-based effects are possible using Numeric and pygame.
Note: The original 'pygame-water.zip' archive had a mis-named file that caused the script to fail on case-sensitive operating filesystems. The archive has been replaced with a fixed version.




import pygame, pygame.transform, pygame.image
from operator import *
from random import *
from math import *
from pygame.surfarray import *
from pygame.locals import *
from Numeric import *





RES 	= array((320,200))
CHUNKY  = RES/2
PI 	= 3.14159
DEG2RAD = PI/180




def main():


    
    
    
    pygame.init()
    screen_surface = pygame.display.set_mode(RES,0, 8)

    
    
    
    texture = pygame.image.load("water.gif")

    
    texture = pygame.transform.scale(texture, CHUNKY)
    
    
    texture_buff = pygame.surfarray.array2d(texture)
    texture_buff = texture_buff.flat

    
    height_buffer = [zeros(CHUNKY),zeros(CHUNKY)]

    
    water_buffer = zeros(CHUNKY)

    
    texture_lut = make_indices_array(CHUNKY)


    
    water_surface = pygame.Surface((CHUNKY[0], CHUNKY[1]), 0, 8)
        
    
    water_surface.set_palette(texture.get_palette())
    screen_surface.set_palette(texture.get_palette())

    
    hpage = 0

    
    x = 80
    y = 80

    
    xang = 0
    yang = 0
    offset = 0
    ox =CHUNKY[0]/2
    oy =CHUNKY[1]/2

    
    density = 4

    
    pheight = 800

    
    light = 1

    
    radius = 15
    
    
    
    
    mode = 0

    
    while 1:

        pygame.event.pump()

        
        keyinput = pygame.key.get_pressed()

        
        if keyinput[K_ESCAPE] or pygame.event.peek(QUIT):
            return

        if keyinput[K_w]:
            
            mode = 1 

        if keyinput[K_s]:
            
            mode = 2

        if keyinput[K_b]:
            
            mode = 3

        if mode == 1:
            
            
            x = randrange(2,(CHUNKY[0])-2)
            y = randrange(2,(CHUNKY[1])-2)

            
            height_buffer[hpage][x][y] = randrange(1,pheight<<2)

        elif mode == 2:
            

            
            x = ((CHUNKY[0]/2)-10)*sin((xang*DEG2RAD) * 2)
            y = ((CHUNKY[1]/2)-10)*cos((yang*DEG2RAD) * 3)
            
            xang += 2
            yang += 1

            
            height_buffer[hpage][int((ox+x))][int((oy+y))] = pheight
            height_buffer[hpage][int((ox+x)+1)][int((oy+y))] = pheight >> 1
            height_buffer[hpage][int((ox+x)-1)][int((oy+y))] = pheight >> 1
            height_buffer[hpage][int((ox+x))][int((oy+y)+1)] = pheight >> 1
            height_buffer[hpage][int((ox+x))][int((oy+y)-1)] = pheight >> 1

        elif mode == 3:
            
            x = randrange(2,(CHUNKY[0])-2)
            y = randrange(2,(CHUNKY[1])-2)

            
            heightBlob(x,y, pheight, radius, height_buffer[hpage])

            
            mode = 0



        
        water_buffer = Draw_water(water_buffer, height_buffer[hpage], texture_buff, light-1, texture_lut)
        Calc_water(hpage^1, height_buffer, density)

        
        hpage ^= 1

        
        blit_array(water_surface, water_buffer)
        temp = pygame.transform.scale(water_surface, screen_surface.get_size())
        screen_surface.blit(temp, (0,0))
        
	pygame.display.update()





def make_indices_array(shape):


    
    a = indices(shape[::-1])
    return transpose(a, (0,2,1))[::-1]
    return a




def texturemap(flattened_texture, heightmap, indices_array):


    
    shape = heightmap.shape

    distortion = heightmap #>> 1

    indices = array(indices_array)
    indices[0] += distortion
    indices[1] += distortion
    indices[0] %= shape[0]
    indices[1] %= shape[1]

    lookup = indices[0]*shape[1] + indices[1]    
    mapped = take(flattened_texture, lookup.flat)
    return reshape(mapped, shape)




def Draw_water(dest, map, texture, LightModifier, indicies):


    

    
    h_map = zeros(CHUNKY)

    thispix = map[1:-1,1:-1] 
    nextpix = map[:-2,1:-1]  
    
    h_map[1:-1,1:-1] = thispix - nextpix
    
    
    
    h_map  += texturemap(texture,h_map, indicies) 

    
    
            

    
    h_map >>= LightModifier

    
    dest = clip(h_map,0,255)
    



    
    return dest




def Calc_water(opage, map, density):


    
    
    
    new_page = map[opage]
    old_page = map[opage^1]

    
    center = new_page[1:-1,1:-1]
    origcenter = array(center)
    center[:] = old_page[2:,2:]
    
    center += old_page[1:-1,2:]
    center += old_page[:-2,2:]
    center += old_page[2:,1:-1]
    center += old_page[:-2,1:-1]
    center += old_page[2:,:-2]
    center += old_page[1:-1,:-2]
    center += old_page[:-2,:-2]
    center >>= 2
    center -= origcenter
    center -= (center>>density)


    




def heightBlob(x, y, height, radius, h_map):


    

    rquad = 0
    cx = 0
    cy = 0
    cyq = 0
    left = 0
    top = 0
    right = 0
    bottom = 0

    rquad = radius * radius

    
    left = -radius
    right = radius
    top = -radius
    bottom = radius

    
    if ((x - radius) < 1):
        left -= ((x - radius) - 1)
    if ((y - radius) < 1):
        top -= ((y-radius)-1)
    if ((x + radius) > CHUNKY[0] - 1):
        right -= (x + radius - CHUNKY[0] + 1)
    if ((y + radius) > CHUNKY[1] - 1):
        bottom -= (y + radius - CHUNKY[1] + 1)

    
    for cy in range (top, bottom):
        cyq = cy*cy
        for cx in range(left, right):
            if(cx*cx + cyq < rquad):
                h_map[cx+x][cy+y] += height

    


if __name__ == '

__main__

': main()