Title: Roto-Zoom Effect
Author: Gareth Noyce (g at korruptor.demon.co.uk)
Submission date: March 8, 2002
Description: Rotates, zooms and tiles a bitmap.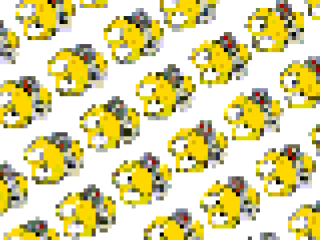 Download: roto_zoom-complete.zip
pygame version required: Any (with Surfarray)
SDL version required: Any
Python version required: Any (with Numeric)
Comments: More effect craziness from Gareth Noyce. This code performs an effect you've probably seen somewhere before - it tiles a bitmap across the window, then rotates it, and zooms in and out. The code works pixel-by-pixel to generate each successive frame; it would be interesting to contrast the speed of this effect with one based on pygame's own transform module.




import pygame, pygame.transform, pygame.image
from operator import *
from pygame.surfarray import *
from pygame.locals import *
from Numeric import *





RES 	= array((640,480))




def main():


    
    
    
    pygame.init()
    screen_surface = pygame.display.set_mode(RES, 0, 8)

    
    image = pygame.image.load("

monty.gif

")
    image_buff = pygame.surfarray.array2d(image)

    
    rot_buffer  = zeros(RES/8)
    
    
    rot_surface = pygame.Surface((RES[0]/8, RES[1]/8), 0, 8)
        
    
    rot_surface.set_palette(image.get_palette())

    
    angle = 0.1
    scale = 2
    surface_x = RES[0]/8
    surface_y = RES[1]/8
    image_x = image.get_width()
    image_y = image.get_height()

    
    inc = 0.1

    
    dir = 0

    
    while 1:
    
        
        for e in pygame.event.get():
            if e.type in (QUIT,KEYDOWN,MOUSEBUTTONDOWN):
                return

	            
	
	rot_buffer = roto_zoom(rot_buffer, image_buff, mod(angle,360), scale, surface_x, surface_y, image_x, image_y) 
	blit_scaled_surface(screen_surface, rot_buffer, rot_surface)
	pygame.display.update()

        
    	angle += inc

        
	if(dir):
	    scale -= 0.1
	    if(scale <= 0):
		dir = 0
        else:
	    scale += 0.1
            if(scale >= 4):
            	dir = 1
            



def roto_zoom(dest, src, angle, scale, x_size, y_size, x_mask, y_mask):


    
 
    
    src_x = 0.0
    src_y = 0.0

    
    dest_x = 0
    dest_y = 0

    
    dx = 0.0
    dy = 0.0

    
    start_x = 0.0
    start_y = 0.0

    
    dx = cos(angle) * scale
    dy = sin(angle) * scale

    
    for dest_y in range(0,y_size):
       
        
	src_x = start_x
	src_y = start_y
	
	
	for dest_x in range(0,x_size):
		
		
		
		dest[dest_x][dest_y] = src[mod(int(src_x),x_mask)][mod(int(src_y),y_mask)]

		
		src_x += dx
		src_y += dy

	
    	start_x -= dy
   	start_y += dx

    
    return dest





def blit_scaled_surface(screen, flame, miniflame):


    
    blit_array(miniflame, flame)
    s2 = pygame.transform.scale(miniflame, screen.get_size())
    screen.blit(s2, (0,0))



if __name__ == '

__main__

': main()