Title: Bitmapped font module
Author: Paul Sidorsky (paulsid at home.com)
Submission date: June 5, 2001
Description: A simple class for bitmapped fonts in pygame. A bitmapped font is simply a font specified as a bitmap. Bitmapped fonts are easy to use, fast, and let you display fancy multicoloured text. The characters are all the same size, so it's easy to treat the screen as a matrix of character cells, as if you were in text mode (e.g. for a status screen between levels). Drawbacks are that you must of course draw the font yourself, you can't change the colour, and you don't get special effects like bold, italics, etc.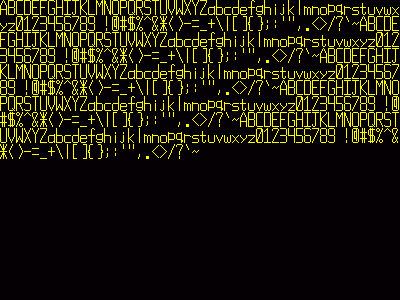 Download: bmpfont.zip
pygame version required: 1.0
SDL version required: Any
Python version required: 2.1
Comments: This submission is so well documented, I don't have much to add. As Mr. Sidorsky says, this file package allows you to create your own bitmapped font image, define it with an index file, then blit it to your surface. The included code uses xmodelines(), which is only available in Python 2.1; to make it work with Python 2, you must change line 77 from:
for x in f.xreadlines():
to:
for x in f.readlines():
The result will be a little slower, but will be compatible with older versions of python.




import pygame.image
from pygame.locals import *

__all__ = ["

BmpFont

"]



class BmpFont:


        
        

def __init__(self, idxfile = "font.idx"):


                
                self.alluppercase = 0
                self.chartable = {}
                self.bmpfile = "

font.bmp

"
                self.width = 8
                self.height = 16
                self.transrgb = (0, 0, 0)

                
                f = open(idxfile, "

r

")

                for x in f.xreadlines():
                        
                        if x[-1] == '

\n

': x = x[:-1]
                        words = x.split()

                        
                        if words[0] == "

bmpfile

":
                                self.bmpfile = x.split(None, 1)[1].strip()
                        elif words[0] == "

alluppercase

":
                                self.alluppercase = 1
			elif words[0] == "

width

":
				self.width = int(words[1])
			elif words[0] == "

height

":
				self.height = int(words[1])
			elif words[0] == "

transrgb

":
				self.transrgb = (int(words[1]), int(words[2]), int(words[3]))
			else:  
				if words[0] == "

space

": words[0] = '

 

'
				if self.alluppercase: words[0] = words[0].upper()
				self.chartable[words[0]] = (int(words[1]) * self.width, int(words[2]) * self.height)
		f.close()

                
                self.surface = pygame.image.load(self.bmpfile).convert()
                self.surface.set_colorkey(self.transrgb, RLEACCEL)

        
        

def blit(self, string, surf, pos = (0, 0), usetextxy = 1):


                
                x, y = pos
                if usetextxy:
                        x *= self.width
                        y *= self.height
                surfwidth, surfheight = surf.get_size()
                fontsurf = self.surface.convert(surf)

                if self.alluppercase: string = string.upper()

                
                for c in string:
                        
                        
                        if x >= surfwidth:
                                x -= surfwidth
                                y += self.height
                                if y >= surfheight:
                                        y -= surfheight

                        surf.blit(fontsurf, (x, y), (self.chartable[c], (self.width, self.height)))
                        x += self.width


if __name__ == "

__main__

":
        import pygame
        pygame.init()
        screen = pygame.display.set_mode((400, 300), 0, 16)
        pygame.event.pump()
        
        bmpfont = BmpFont()
        msg = "

ABCDEFGHIJKLMNOPQRSTUVWXYZabcdefghijklmnopqrstuvwxyz

"\
              "

0123456789 !@#$%^&*()-=_+\|[]{};:'\",.<>/?`~

" * 5
	bmpfont.blit(msg, screen)
	pygame.display.flip()
	while pygame.event.poll().type != QUIT: pass